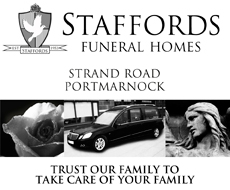 Weather is a great leveller in rugby. The great handicap committee from the sky. Sometimes the gods of sport deem that for one night only the scales will be balanced by a sloppy night, a wet ball, and a referee who decided that the offside line was to be policed by ….. Someone else somewhere else.
Terenure were great on Friday night. Stuck adrift on the bottom of the league by a mile they managed a moral boosting victory over Garryowen in their last outing to give themselves a sniff and arrived at Castle Avenue with the concentration of mind reserved for those damned souls for whom the gallows has been erected.  Terenure set about their task with a clear tactic. That was to do little with the ball except kick it into the home 22 and to defend like a Russian punishment battalion in WW2 Leningrad.
Clontarf failed to read the runes and attempted to apply their not inconsiderable pacey distribution skills on a messy night and with a ball as slick as a wet seal. That fatally slowed their momentum enough for the defenders to make their hits safe in the knowledge that, if they held firm, the law of averages would favour the team without the ball.  Terenure,s tactic worked, but only barely, as Clontarf,s superior skill set managed possession through multiple phases only to see the final killer pass spilled on at least two occasions. As the game progressed Terenure managed to gain ground in the home 22 enough to land a penalty and later when the  Clontarf defence turned over a ball in their own 22 only to lose it back again immediately the visitors managed the two passes required for the try and conversion for  3  10 at half time.
The second half continued in the same vein and no doubt many on the home side will rue the lack of variation in play that possibly could have paid some dividends given the problems with handling and the home sides scrum dominance and almost perfect lineout. As the lord said.. "Do unto him …etc etc "
It wasn't to be and Terenure held out gamely for the points through some heart stopping surges from Tarf at the end.