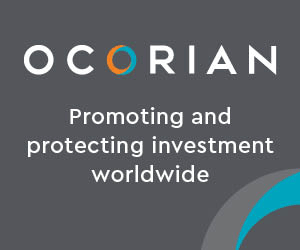 Clontarf Bulls a team for local children with intellectual additional needs, is nearing the end of a hugely successful first season at Clontarf Rugby.  On Sunday 26th March the team and coaches celebrated during a special presentation and training session with their Ambassador Joey Carbery of Clontarf, Leinster and Ireland and Sponsor Paul Nolan of Nolan's Supermarkets.
On a perfect sunny morning in Castle Avenue, the children, families and coaches cheered as Joey Carbery presented each player with a signed rugby ball from Canterbury of New Zealand.  The thrill of recognition for good play continued as Joey got to know the children individually during training.  'Joey knows my name!' could be heard from excited young voices on the all-weather pitch.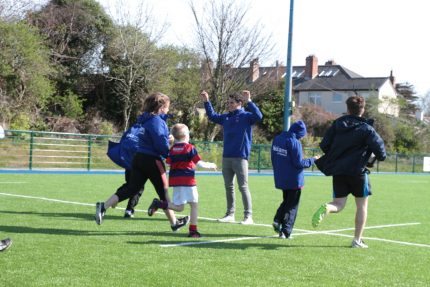 Speaking at Sunday's event, Carbery said;
"I'm delighted to be an Ambassador to the Clontarf Bulls. I've played rugby from a young age and it has given me such great opportunities to make friends, gain confidence, learn lots of new skills and the sport gives me huge enjoyment.
The Clontarf Bulls is a fantastic initiative that has been set up here in Clontarf Rugby Club. Seeing how much excitement and joy the players get down here on a Sunday morning, being part of a team, learning lots of new skills and getting some great exercise is just really positive and I'm looking forward to seeing how the players all develop over the coming seasons."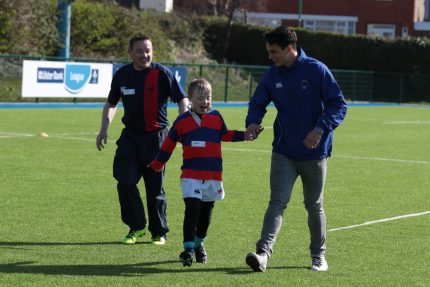 Nolan's Supermarket in Clontarf have come on board as sponsors of the side and have provided "Clontarf Bulls" Canterbury jackets to all of the players.  The Clontarf Bulls team jackets are now worn with such pride during training but also during the week to school!  Clontarf Rugby is very appreciative of such support.
Paul Nolan, business owner of Nolan's, who was on hand on Sunday to officially present the players with their jackets said;
"Nolan's are delighted to be sponsors of the Clontarf Bulls. The Bulls are a special team in the community of Clontarf and as a supermarket that is at the heart of the community in Clontarf we are proud to be associated with them".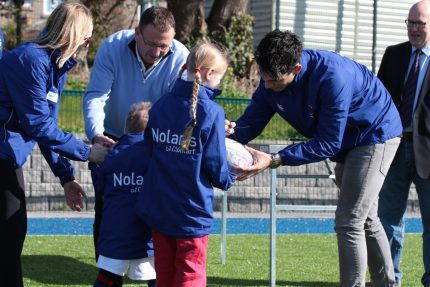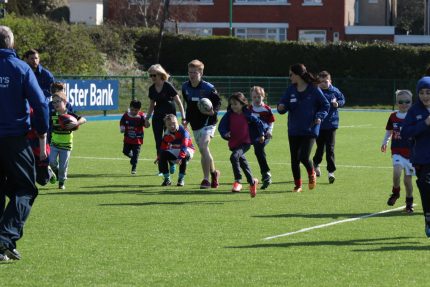 See all the action of the day's event, photography courtesy of Laurent Coudeur: Joey Carbery Meets Clontarf Bulls At Clontarf Rugby
For more information please visit the team page Clontarf Bulls