These Friday night games are called "Friday Night Lights" by the marketing guru's in the IRFU. After this game the home fans will be renaming them "Friday Night Frights" because the Clontarf side gave the supporters heart failure throughout a second half riddled with more confusion than a keystone cops movie.
A quick glance at the division 1A table gives you a good overview of what is important in league rugby. Old Belvedere are currently bottom despite having scored 85 points, 5 more than Clontarf who are top of the division. In the points conceded column, however, the numbers diverge dramatically with Clontarf's miserly 40 conceded compared to Belvo's 101.  Clontarf's defense this season has been immense. And, by God, did we need it on Friday because we gave Lansdowne enough ball in a tortured second half to win three games.
It was a real pity because Clontarf played some superb rugby in the first half an hour and were well beyond the capabilities of the Lansdowne defense. They scored three tries with some hard straight running, fast ball, and accurate passing at pace. The first went to Jamie Chipman after some fast phased rugby, the second went to Noel Reid who took a lovely support line after a break in the centre and finally Ben Barclay got in after an outrageous dummy. At that point Lansdowne were clinging on for dear life with only a try after a Clontarf error to their name, however, some missed tackles gave them hope and they were unlucky to knock on close to the home line as half time approached. In the second half Lansdowne scored early and gave themselves a sniff. Clontarf joined in sportingly by falling into a malaise of bad passes, bad option taking, awful defensive kicking and a lineout straight from the blind dwarf's rugby playbook. It was terrifying to watch.
To be fair the defense held firm andRichie Lane, coolness personified, was on hand to add a nerve settling penalty which kept us clear to the end.
J1 League Triumph
On Sunday, the J1's took on a star studded Old Belvedere side in the final of the Leinster Senior Seconds League Cup and soothed the anxieties of the sideline with a sensational performance and a 31 10 victory.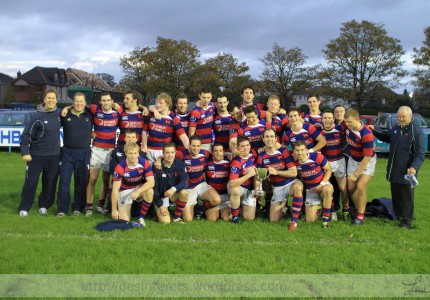 Unable to get out of their own half for fully 30 minutes the Clontarf 15 took everything that Belvo could throw at them in as good a defensive performance as has ever been seen in Castle Avenue and held them scoreless. They then had the temerity to breakout and score themselves and when, reduced to 13 men after two yellow cards, they stormed in for another score just before half time – it was clear that this was going to be a special afternoon. And so it was.
Clontarf continued where they left off in the second half and Belvo had no answers. It has been a long time since I have watched a Clontarf game and been unable to pick an outstanding individual performance. In this game all the players were outstanding, both in skill and in resolve. They have laid down a marker for the J1 League campaign and for the wider Clontarf Senior Squad.
More photographs of the game available at Laurent's site.