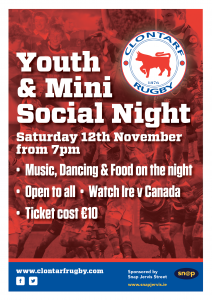 Our annual Youth & Mini Social Night for parents and friends will be on Saturday 12th November from 7pm in the Clubhouse.  The Ireland v Canada international is on that evening at 7.15pm which will be televised in the main bar.
This is a great opportunity to have a night out and meet other parents, friends and the coaches in a relaxed, child-free environment.  There will be music, dancing and food available on the night and the cost of a ticket is only €10 with all proceeds going to the Youth & Mini section of the club, and all are very much welcome.
Tickets are available from the various team managers or you can pay on the door.