The Clontarf Bulls are a well established team at Clontarf Rugby.  This team comprises of local boys and girls with additional needs.  
The Clontarf Bulls are led by a group of coaches many of whom are active players, ex-players, teachers, special needs assistants and academics with a commitment to ensure that these players are actively engaged in rugby.
There is a 1-1 coach-player format within the team.  Training kicks off from 11am – 12pm every Sunday morning during rugby season. Activities set out on the pitch by coaches and players, support skills such as running; building speed and quickness, foot-skills; placement of the feet to grab or defend the tag, space; identifying spaces to avoid attackers, and ball-skills; passing, and carrying.
The team plays TAG rugby with confidence alongside other Youth & Mini Teams on the all-weather pitch.  With subtle modifications to the game to ensure everyone's involvement on the pitch, Clontarf Rugby recognise all abilities to play and enjoy rugby.  Nolan's of Clontarf are proud sponsors of the team, with the players and coaches kitted out in very smart team jackets!
David is a parent to Clontarf Bull Oscar age 8: 'The Bulls is an oasis of tolerance and acceptance for Oscar.  He loves his Sunday morning training.  We are so heartened by how a club like Clontarf Rugby embraces our son.  It gives us as parents the energy to see to his other needs'.
Michael is a parent to Clontarf Bull Tom age 12: 'The Clontarf Bulls plays a really important part in Tom's life.  Tom is accepted for who he is at the Bulls, he is valued and celebrated.  He takes this confidence away with him and walks tall. The Bulls is a safe space to experiment with how much Tom can develop, he has blossomed since joining the Bulls and rugby gives us a focus to get out and enjoy life!.'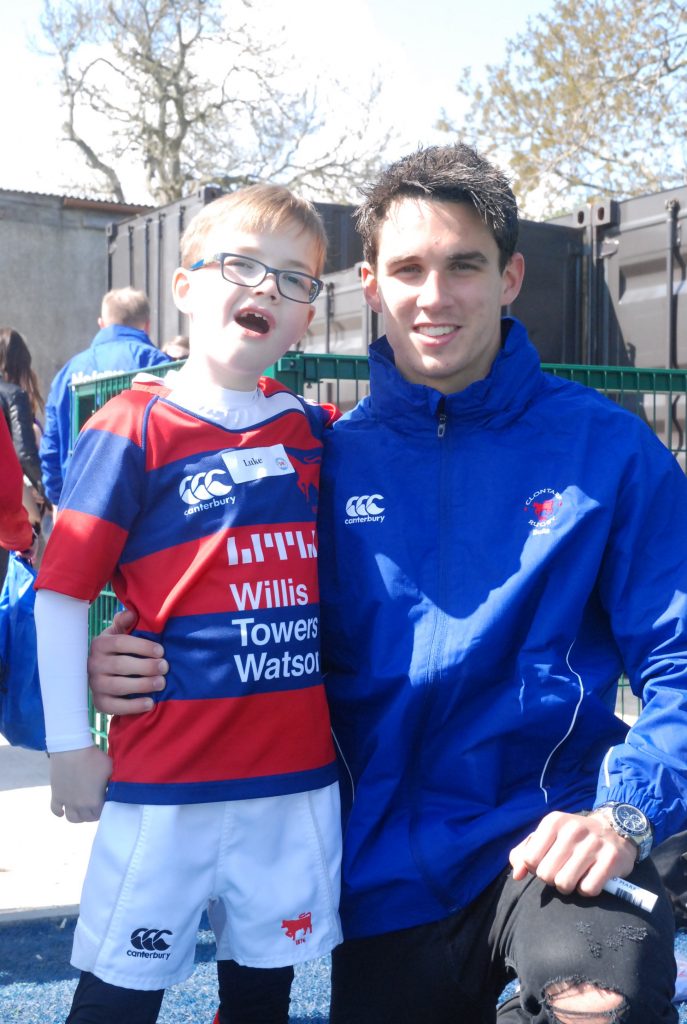 Terry Browne, Chairman of Rugby: 'Clontarf FC has, at the core of its rugby ethos, the provision of rugby to all in our community regardless of gender or ability. In addition the whole 'Bulls' experience on a Sunday morning affords so many of our members old and young, male and female, an opportunity to engage so positively and enjoyably with a fantastic bunch of boys and girls.'
Clontarf Rugby was very proudly awarded as

SPORTS CLUB OF 2018

at the Sport Ireland and Cara National Inclusion Awards, in recognition of the strong embedding of the Clontarf Bulls into the Club structure.  Irish Rugby visited the Club recently to find out more!
Check out how well our awesome Clontarf Bulls have progressed and how they're getting top quality support and coaching from across the club and community.
See the brilliant Clontarf Bulls, their coaches and their ambassador Joey Carbery in action!
For further information please contact:
Dolores O'Hagan Skelly
Email: doloresskelly@gmail.com