Do you remember the Wile E Coyote cartoon that featured the hapless coyote constantly in pursuit of the road runner with the "beep beep" call? The plot always involved the coyote being lured to disaster, with early exploding dynamite, or over a cliff edge where the poor guy would be led to the certain drop but a split second before gravity engaged he would turn to the camera with a resigned, ah no, WTF gaze.
On Sunday, the rugby gods picked up the Clontarf, team, supporters, executive,  sponsors and hangers-on and dangled them over the cliff. It was a very tough day at the office.
In short, Clontarf failed to build almost total territorial dominance for 30 minutes into points on the board. Aitzol Arenzana-King scored a classic on the right to give us the lead and the forwards ground one out, but when Terenure grabbed an intercept score to add to two early penalties and then got another right on half time, through some brilliant work by winger Craig Adams, the champions went in looking at an 8 point deficit, rather than the comfortable lead their possession and effort required.
For Terenure, and their tactically assured coach, this was a godsend. Defending a lead in a final is a tactical bonus. Clontarf needed to be ahead on the scoreboard to force Nure to be creative. Instead, Nure took their half time gift and structured their second half  around keeping Tarf away from their 22. Social media will laud the penalty kicking display by centre Caolan Dooley. And rightly so, 11/12 kicks for 30 points was astonishing, but also on the button was the kicking from hand of their out-half Calum Smith, who launched the ball far into Tarf territory forcing us to chase the game from deep. It didn't help that when we worked territory and attacking penalties, our lineout malfunctioned and as we struggled to reassert patterns, we were open to conceding defensive penalties.
In the end the momentum swing was too extreme to reverse. Dooley was dropping shots over from everywhere (he'd probably have managed one from Havelock Square) and when Conal Boomer arrived, he grabbed a try on the left then, as a cameo, picked a ball from a retreating scrum and showed the league why he should be playing at a higher level by putting winger Stevie O'Neil in on the right.
Congrats to Terenure. What a season! We will send them some silver polish !
With 15 minutes to go, and the scoreboard ticking over like the money gauge on a petrol pump, Clontarf supporters knew the gig was up. We were wearing that Wile E Coyote resigned gaze …….. Funny thing though …… He always seems to keep bouncing back!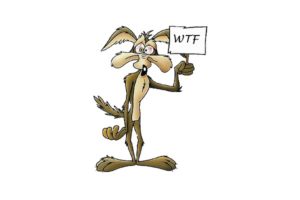 Editor's Note – We would like to thank Peter Walsh for his match reports throughout the season. They were insightful,witty, often tongue-in-cheek, on the mark and always a great read. Thanks Peter, from all of your readers.