Contact : Cathal Quigley 087 2442511 or cathalquigley@gmail.com for more info.
Clontarf Rugby U16s Boys (2004)
The 2019/2020 season starts on 25th August 2019.
Match and Training Schedule
Training every Tuesday from 6-7pm on the All Weather Pitch @ Castle Avenue.

Matches will typically take place on Sunday mornings. The scheduled slot from Leinster is 12-1 but this varies depending on the opposition and pitch availability. On Sundays when we don't have a match we will train at Castle Avenue (typically from 12-1).

All details are confirmed via the U16 Team WhatsApp group. If you need to be added to the group or get your son added to the group then contact Cathal Quigley (087 2442511).
Club Registration
All players must be registered with the club for Insurance and in order to play. You can apply for membership and/or play your annual subscription via this link
School vs Club Rugby
The regulations around playing Schools vs Club rugby for the 2019 / 2020 season have been clarified by the Leinster Youth Committee. Here's a simplified version, as it applies to Clontarf U16 players:
If a player is attending an exempt school (e.g. Mount Temple, St. Fintans, St. Pauls, etc…) then they can play for both Clontarf and their school
If a player is attending a non-exempt school that is one of the "Super Six" (Belvedere, Blackrock, Clongowes Wood, St Mary's, St Michael's College Terenure) then they cannot play for Clontarf from the time the are officially named on the school JCT panel
If a player is attending a non-exempt school that is not one of the "Super Six" (e.g. CUS, St. Andrews, etc..) then they can play for Clontarf up until they have been named on 4 Leinster Schools League (A team) teamsheets as either a starter or a substitute, or they have been named on the teamsheet as either a starter or a substitute for a Junior Cup game or a Fr Godfrey Cup game
There may be an opportunity to have a player who is tied to their school to be returned to play for Clontarf if they are cut from the JCT panel or the schools rugby season is over (e.g. school knocked out of the Cup). This is handled on a case by case basis by submitting a regrading application to the Leinster Youths Committee.
If anyone has any questions about the above please talk to one of the Clontarf coaches.
For reference, the list of the non-exempt schools can be found here.

Pre-Season Challenge Games
Sunday 15th September 2018
Clontarf 27 V St Marys 12
League & Cup Fixtures
PLQ – Premier League Qualifier
PL – Premier League
Cup – School / Youths Cup
Metro – Metro Invitational Cup
Sunday 29th September 2019
Clontarf 32 vs St Marys 0
Sunday 6th October 2019
PLQ – Greystones vs Clontarf (Greystones conceded)
Sunday 13th October 2019
Friendly vs Greystones (cancelled bad weather)
Sunday 20th October 2019
PLQ – North Meath 3 vs Clontarf 31
Sunday 27th October 2019
Training
Sunday 3rd November 2019
Friendly – Greystones 5 – Clontarf 84
Sunday 10th November 2019
PLQ – Clontarf 48 vs Naas 0
Sunday 17th November 2019
PLQ – Malahide 20 vs Clontarf 31
Sunday 24th November 2019
Training
Sunday 1st December 2019
Training
Sunday 8th December 2019
PL – Clontarf 22 vs Newbridge 19
Sunday 5th January 2020
PL – LDS 13 vs Clontarf 18
Sunday 12th January 2020
No Training
Sunday 19th January 2020
PL – Clontarf 17 vs St Marys 15
Sunday 26th January 2020
Cup – Newbridge 5 vs Clontarf 10
Sunday 2nd February 2020
PL – Barnhall vs Clontarf
Sunday 9th February 2020
Training
Sunday 16th February 2020
Cup Round 2
Sunday 23rd February 2020
PL – Clontarf vs Skerries
Sunday 1st March 2020
Cup Qtr-Final
Sunday 8th March 2020
Training
Friday 15th March 2020
League Semi-Final
Sunday 22nd March 2020
Cup Semi-Final
Sunday 29th March 2020
Training / Metro Cup
Sunday 5th April 2020
League Finals
Sunday 12th April 2020
Training / Metro Cup
Sunday 19th April 2020
Training / Metro Cup
Sunday 26th April 2020
Training / Metro Cup
Sunday 3rd May 2020
Cup Final
Appropriate Studs
There is a massive focus this year on making sure that the players are wearing boots with studs that are appropriate and legal for playing rugby. Referees have been instructed to check for illegal studs before a game begins and if a player does not have the correct studs on their boots they will not be allowed to play. Legal rugby studs need to be 10mm at the top as per the graphic below: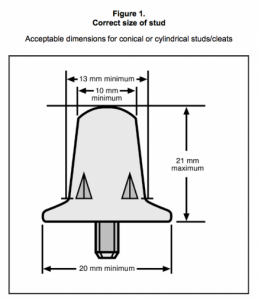 Here are some general guidelines:
If your boots have screw-in metal / plastic / plastic & metal studs they MUST meet the World Rugby standards (10mm at the top as per the graphic above)
As a general rule Nike and New Balance don't make rugby boots and if you have these boots you are highly likely to have to swap out the studs that came with them for rugby studs
Adidas soccer boots are also likely to require their studs to be swapped out as well, but Adidas do make rugby boots and they meet the standards
Brands like Canterbury, Patrick, Asics and Mizuno also make rugby boots that meet the standards
Boots with moulded plastic studs will be allowed (though in general they are not recommended as when we get into winter they don't give much traction on wet rugby pitches)
Boots with blades will definitely not be allowed and as are also not allowed on the All Weather Pitch in Clontarf
Boots that are missing one or more studs will also not be allowed.
Here is an example we've been given of boots with legal studs:
And here is an example of illegal studs:
Please print this page out and show it to your son. If in doubt on anything above, please check with one of the coaches.
Safe Rugby:

We strongly encourage all coaches, players and parents to have a better understanding of concussion. Concussion can pose a significant risk to the well being of players if not managed effectively. Please use the following link to the IRFU website www.irishrugby.ie/concussion and fimilarise yourself with the signs, symptoms and management of concussion. I would ask that you share Junior Player video with your child to ensure that they too understand concussion.
Code of Ethics:
Please get involved. Positive encouragement for all the children is vital, most players want to impress their parents, so please try to impress the children. Never be negative.
NOTE: If any parent/guardian has an issue or observation regarding their child please bring notice immediately to a coach.