Contact : Cathal Quigley 087 2442511 or cathalquigley@gmail.com for more info.
Clontarf Rugby U15's Boys (2004)
The 2018/2019 season starts on 2nd Sept.
Training
Every Wednesday from 6-7pm on the All Weather Pitch and Sunday mornings at Castle Avenue (typically from 11-12am) when there is not a match. Details confirmed in advance via U15 Team WhatsApp Group.
Club Registration
All players must be registered with the club for Insurance and in order to play. You can apply for membership and/or play your annual subscription via this link
Pre-Season Challenge Games
Sunday 16th September 2018
Clontarf u15 V Clontarf u16
Sunday 23rd September 2018
Clontarf V Arklow
Leinster U15 School/Youth League 2018/2019
The league format is as follows (this will be subject to the number of teams entering the competition):
The teams will be divided into two groups (A&B) of 8 teams each
Each team will play 7 grading games against the teams in their group
The top 4 teams from Group A and Group B will form the Premier League
The bottom 4 teams from Group A and Group B will form the Division 1 League
Each team will play a further 4 league games against new teams in their division
At that point the top 4 team in the qualify for League Semi-Finals and the bottom 4 qualify for Shield Semi-Finals
Leinster U15 School/Youth Cup 2018/2019
The 2019 cup draw is as follows:
https://www.clontarfrugby.com/wp-content/uploads/2019/01/U15-School-Youth-Cup.pdf
League & Cup Fixtures
Note: Home team first

Sunday 7th October 2018
League Grading: Clontarf 7 – Skerries 31
Sunday 14th October 2018
League Grading: Balbriggan 5 vs Clontarf 71
Sunday 21st October 2018
League Grading: Clontarf 39 vs DLSP 0
Sunday 11th November 2018
League Grading: Lansdowne 12 vs Clontarf 17
Sunday 18th November 2018
League Grading: Clontarf 89 vs Cill Dara 17
Sunday 25th November 2018
League Grading: Greystones 17 vs Clontarf 43
Sunday 2nd December 2018
No match – training
Sunday 9th December 2018
League Grading: Ashbourne 8 vs Clontarf 27
Sunday 6th January 2019
Prem League: Clontarf 36 vs Suttonians 7
Sunday 13th January 2019
Prem League: MU Barnhall 36 vs Clontarf 0
Sunday 20th January 2019
No Match – Training
Sunday 27th January 2019
Challenge Match vs U16s
Sunday 3rd February 2019
Prem League: Coolmine vs Clontarf
Postponed due to frozen pitch

Sunday 10th February 2019
Prem League: Coolmine 12 vs Clontarf 62
Sunday 17th February 2019
Cup Round 1: North Meath 10 vs Clontarf 33
Sunday 24th February 2019
Prem League: Clontarf vs St Marys @ 12 on AWP, Meet at 11:15
Sunday 3rd March 2019
Cup Qtr Final: Clontarf vs Coolmine

Appropriate Studs
There is a massive focus this year on making sure that the players are wearing boots with studs that are appropriate and legal for playing rugby. Referees have been instructed to check for illegal studs before a game begins and if a player does not have the correct studs on their boots they will not be allowed to play. Legal rugby studs need to be 10mm at the top as per the graphic below: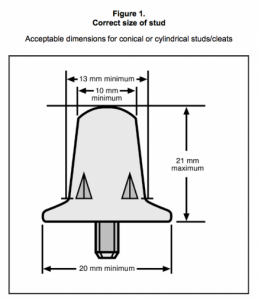 Here are some general guidelines:
If your boots have screw-in metal / plastic / plastic & metal studs they MUST meet the World Rugby standards (10mm at the top as per the graphic above)
As a general rule Nike and New Balance don't make rugby boots and if you have these boots you are highly likely to have to swap out the studs that came with them for rugby studs
Adidas soccer boots are also likely to require their studs to be swapped out as well, but Adidas do make rugby boots and they meet the standards
Brands like Canterbury, Patrick, Asics and Mizuno also make rugby boots that meet the standards
Boots with moulded plastic studs will be allowed (though in general they are not recommended as when we get into winter they don't give much traction on wet rugby pitches)
Boots with blades will definitely not be allowed and as are also not allowed on the All Weather Pitch in Clontarf
Boots that are missing one or more studs will also not be allowed.
Here is an example we've been given of boots with legal studs:
And here is an example of illegal studs:
Please print this page out and show it to your son. If in doubt on anything above, please check with one of the coaches.
2016/2017 U13 Division 1 League
& Plate Champions
2017/2018 U14 Premier League
& Plate Champions

Safe Rugby:

We strongly encourage all coaches, players and parents to have a better understanding of concussion. Concussion can pose a significant risk to the well being of players if not managed effectively. Please use the following link to the IRFU website www.irishrugby.ie/concussion and fimilarise yourself with the signs, symptoms and management of concussion. I would ask that you share Junior Player video with your child to ensure that they too understand concussion.
Code of Ethics:
Please get involved. Positive encouragement for all the children is vital, most players want to impress their parents, so please try to impress the children. Never be negative.
NOTE: If any parent/guardian has an issue or observation regarding their child please bring notice immediately to a coach.