Introducing the Clontonians!
Clontarf and Suttonians Girls Rugby have joined forces, merging their U14 and U16 girls training.  Training alternates between the two clubs, with coaches from both sides involved.  The girls, who have dubbed themselves 'Clontonians', are hugely enthusiastic about the joint venture and parents from both clubs are very supportive.  Two friendly games were held in Clontarf Rugby Club on Sunday 12th November with North Meath sending a U16 team and Barnhall sending their U14 girls. 
The women's team still have new recruits joining regularly so get in touch if you want to give rugby a try.
Don't forget to follow us on Twitter and Instagram.
Clontarf Women's Rugby is recruiting now!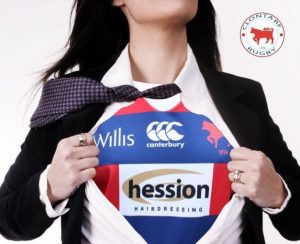 We are looking for players to join us for the 2017/2018 season.
Clontarf Women's Rugby welcomes all women over 18, regardless of experience, to join us for the beginning of something special. Whatever the level of your rugby knowledge, our programme will focus on your needs as a player to help you reach your full potential, while the vibrant Clontarf Social Rugby means you can make friends and have fun while you're doing it.
If you are looking for an altogether more engaging fitness experience, you and your team-mates can enjoy;
An immensely rewarding personal challenge in the company of some of the finest people you will ever meet
The confidence boost of mastering difficult skills
A carefully calibrated and personally tailored fitness and conditioning programme
Membership of a thriving local sports club (League winners, 2013/14 & 2015/16) with a busy and varied schedule of social events
Women's rugby is a fast-growing international sport and is wide open to the emergence of talented new players. If you have excelled at sports in the past and want to find out what you are capable of, Clontarf Women's Rugby offers;
A successful club with a prominent profile within Leinster Women's Rugby
Coaches who are in the process of accreditation with Leinster Rugby and who follow the approved player development plan
Guest coaching sessions by some of the stars of the national women's game, including Grand Slam-winning captain of Ireland Fiona Coghlan
Access to all coaching materials associated with the Clontarf Women's Rugby 'Fast Track' accelerated training programme
Membership of the Clontarf Women's Rugby squad includes access to the services of our qualified support staff, including;
Conditioning Coach – Personal conditioning plans and access to the club gym facilities
Sports Scientist – Physiotherapy and nutrition plans
Acupuncturist – Treating injury, preventing its occurrence and optimising athletic performance