Our Women's team reformed in 2014 and we've grown from six players at our first training session to having over fifty active and retired players in our Women's rugby community.
Last season 2017-18 was our most competitive and successful to date and we competed in our first final.
This year we're hoping to have an even more successful season both on and off the pitch.
Please see list of our of fixtures below, hope you can come cheer us on.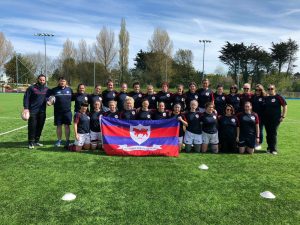 Training is on Mondays and Wednesdays at 7pm.
Management Team –
Coaches:
Barry Turner Flynn
Colin Caffrey
Eoin Murphy
Una Kehoe
Team Managers:-
Aoife Teeling & Hayley Burke
Get in touch with us by either calling our office on 01-8336214 or call/text Aoife on 085 1403879
Why not check out our Facebook page