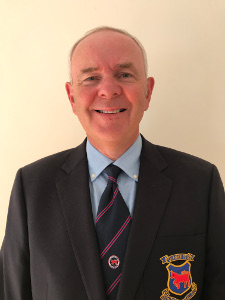 I am proud and honoured to serve as President of Clontarf Football Club for the forthcoming season.
Our Club is widely respected throughout the rugby community and beyond, not just for its successes at all levels on the playing fields, but also for its friendliness, diversity and inclusiveness, which we should all be very proud of.
While it will be, for obvious reasons, a challenging year for the Club and its supporters, I have no doubt that the spirit the Club, showed during the lockdown, will carry us through the year and ensure another season filled with memorable moments for us all.
As my route to this office came from our children playing Mini Rugby, I hope to meet many of these parents throughout the year and encourage them to become more involved with this great Club of ours.
In many ways Clontarf has become a victim of our own success, as despite huge investment in our playing facilities we sometimes, on occasion, struggle to accommodate all our various teams. We are acutely aware of this and I would ask you all to show patience with our volunteers, who work tirelessly to spread our limited resources around as fairly as possible .
My thanks go to these volunteers and our Executive Committee who give freely of their time to ensure our Club is run efficiently for all our members benefit. My thanks also to our in-house staff of Paul Fallon, Damaris O'Brien and Kelley Rossi for their continued good work week in week out.
This season you will find much improved bathroom facilities for our lady members and guests and we will continue to improve our facilities with your help.
We would not survive without our sponsors and our thanks go to our main sponsor, Willis Asgard, and welcome new major sponsors Ocorian this season, as well as Clontarf Castle, MSL Motors and Mason, Hayes and Curran.
While this season will be a little bit different for all involved with the Club, I'd like to wish all the teams, their coaches and support staff, from Minis up to Senior level, lots of luck for the season.
We are lucky in Clontarf to have some of the best and most loyal supporters in the land and I hope to meet as many of them as possible this season, along with welcoming new supporters as well.
Our teams thrive on this support, and to this end I'd like to wish all of our coaches, managers and alickadoos at all levels every success  for the forthcoming season.
I look forward to getting back to enjoying rugby with you all this season,
Brian Goff
Club President 2021/22