Introducing The New IRFU President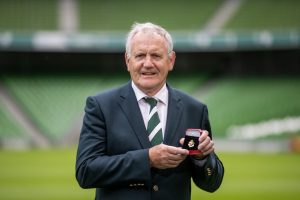 Ian McIlrath, the former Ireland centre three-quarter, was elected the 130th President of the Irish Rugby Football Union at the annual Council Meeting of the Union in the Aviva Stadium on July 13th, 2018.
A long standing stalwart member of Ballymena RFC – he was club President from 2000 to 2008 – he played for Ulster between 1970 and '78 and won five international caps for Ireland between the 1975 and '77 seasons.
McIlrath is the second member of Ballymena RFC to hold the highest office in Irish rugby, following in the footsteps of Syd Millar in the 1995-'96 season.
 A school teacher by profession, he was head of PE from 1974 to 1989 at Ballymena Academy and was then Head of Buick Memorial Primary school from 1989 to 2006.
Appointed to the Ulster Branch, IRFU in 2000, he joined the IRFU Committee in 2008, since when he has played a key role on a variety of committees.
These include as Chairman of the Rugby Committee and Chairman of the All Ireland League sub-committee; the IRFU Management Committee, the Referees sub Committee, the Irish Exiles Committee, the Club Sustainability Working Party and as a Trustee of the IRFU's Charitable Trust for seriously injured players.
Married to Pamela, he has one daughter Anne and grand-daughter Beth.