Welcome to U 17′ s (Born 2005)
Team Manager Joe Toomey (087 668 4265 or Clontarfrugby2005@gmail.com)
Head Coach : Malachy Bradley
We train every Tuesday 17.45-18.45 on the All Weather pitch at Castle Avenue and Sunday's 12.00-13.00 on the grass pitch at Castle Avenue.
---
Fixtures 2021:
November 21st :  Seapoint v Clontarf  ko 10.30
November 28th : Clontarf v St Mary's
December 5th: Clontarf v Tullow
Appropriate Studs
There is a massive focus this year on making sure that the players are wearing boots with studs that are appropriate and legal for playing rugby. Referees have been instructed to check for illegal studs before a game begins and if a player does not have the correct studs on their boots they will not be allowed to play. Legal rugby studs need to be 10mm at the top as per the graphic below: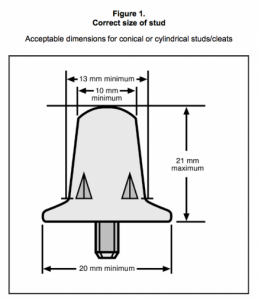 Here are some general guidelines:
If your boots have screw-in metal / plastic / plastic & metal studs they MUST meet the World Rugby standards (10mm at the top as per the graphic above)
As a general rule Nike and New Balance don't make rugby boots and if you have these boots you are highly likely to have to swap out the studs that came with them for rugby studs
Adidas soccer boots are also likely to require their studs to be swapped out as well, but Adidas do make rugby boots and they meet the standards
Brands like Canterbury,  Patrick, Asics and Mizuno also make rugby boots that meet the standards
Boots with moulded plastic studs will be allowed (though in general they are not recommended as when we get into winter they don't give much traction on wet rugby pitches)
Boots with blades will definitely not be allowed and as are also not allowed on the All Weather Pitch in Clontarf
Boots that are missing one or more studs will also not be allowed.
Here is an example we've been given of boots with legal studs:
And here is an example of illegal studs:
Please print this page out and show it to your son. If in doubt on anything above, please check with one of the coaches.
---
UNDER 15's MEDICAL PROTOCOL
This season any player who receives a knock to the head or is involved in any incident where by the head is thrown around  during training or matches will me immediately removed from play and must sit the rest of the session/match out. As soon the player is removed the parent will contacted straight away.
We strongly encourage all players and parents to have a better understanding of concussion. Concussion can pose a significant risk to the well being of players if not managed effectively.
Please use the following link to the IRFU website www.irishrugby.ie/concussion and familarise yourself with the signs, symptoms and management of concussion. I would ask that you share Junior Player video with your child to ensure that they too understand concussion.
All-Weather Pitch Protocols
The permitted footwear for the all-weather pitch and training area is boots with moulded rubber studs or rubber / steel screw-in studs.