CLONTARF U15 | BORN 2003
U14 League & Cup Winners | 2016-2017
________________________________________________

CONTACTS
Chris Sherwood  |  (087) 8121734   |  cssherwood@gmail.com
________________________________________________
SCHEDULE
Friday, 20 October  |  NO Training
There will be no training this Friday
Sunday, 22 October  |  Training
Training in St. Pauls @ 11:15
_____________________________________________________
LEAGUE
The Leinster Branch have provided revised details of the League
for this season as a couple of teams have dropped out including
Blackrock and Malahide while Greystones and Old Wesley have
merged.  There will be an initial grading phase to split teams into a
Premier and Division 1 League.
Our fixtures in the grading phase are:
Sunday, 15 October v. Suttonians (A)  |  Won 37-12
Sunday, 5 November v. Westmanstown (H)
Sunday, 12 November v. MU Barnhall (H)
Sunday, 19 November v. Coolmine (A)
The league proper will now start weekend of 3 December.  There are
now 15-teams in the league in 3-grading groups:
Qualifier A | Cill Dara; North Meath; Ratoath; Terenure; Seapoint
Qualifier B | Skerries; Portlaoise; Ardee; Ashbourne, West Stones Vikings
Qualifier C | Clontarf; Westmanstown; Barnhall; Suttonians; Coolmine
There will be an 8-team Premier League and 7-team Division 1 League.
_____________________________________________________
GREEN CARD | NON-EXEMPT SCHOOLS
We are required to register for a 'Green Card' for players attending
non-exempt schools.  We will be sending a separate email to the
affected players with form that needs completing, appreciate if you
can complete as soon as possible, a copy of the form is also below.
Preferable if you can drop the completed form with supporting docs
into the office letterbox in the club, this will allow it to be processed
far quicker than giving it to one of the coaching team.  The letter box
is under the window after the club shop, please address to
'Kelley Rossi – Youth & Minis Administrator' and mark it as 'Green Card'.
Appreciate if you can advise once you have submitted the form.
The non-exempt schools are Belvedere College; Blackrock College;
Clongowes Wood College; St Mary's College; St Michael's College;
Terenure College; Castleknock College; Catholic University School
CBC Monkstown; Cistern College Roscrea; Gonzaga College
Kilkenny College; Newbridge College; Presentation College Bray
St. Gerard's School; St Andrew's College; The King's Hospital
Wesley College; The High School
_____________________________________________________
Inaugural Youth & Mini Lunch |  Saturday 21st October
The Youth & Mini section are organising a lunch in the club on
Saturday, 21 October.  It's a great opportunity for parents to get
together, we hope to have at least one U15 table.  Please contact me
if you are interested in attending.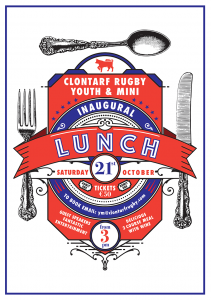 "With a thriving Youth & Mini section who are such an important
part of our growing club, We are hosting an inaugural Youth
& Mini Lunch on Saturday 21st October in the club.
This will be a late lunch starting at 3pm and a great opportunity
for all the parents and coaches to come together and enjoy a
delicious 3 course meal with wine, guest speakers and
good entertainment.
We would like all our Youth & Mini teams represented on
tables at this lunch, the cost per head is €50 and any money raised
will go towards Youth & Minis.
To book your place please contact
Kelley Rossi (Youth & Mini Secretary) on ym@clontarfrugby.com
or let your team manager know"
____________________________________________________
Please do not hesitate to contact us if you have any questions.
Many thanks
U15 Coaching Group